The library remodel is coming along nicely!
At the end of June, I completed the second quarter list of significant book acquisitions to the PRC Seminary library for this year. A few weeks ago I posted the first part of this list for the broader benefit of our readers (find that post here).
As noted before, part of my reason for posting this list here is not only to show you the kind of books the seminary adds to its library, but also to stimulate you to find something to read. Yes, there are books here for the layman and laywoman, for the young adults and for teenagers. Browse this list and perhaps you will find something that grabs your attention and compels you to pursue it.
In this second part of the list we will look at four (4) sections: dogmatics/theology, practical theology (2 parts), and miscellaneous. Hoping you find something of interest to read yet this summer or in the fall.
Dogmatics, Biblical Theology, Historical Theology
Theology and the Mirror of Scripture: A Mere Evangelical Account / Kevin J. Vanhoozer; Daniel J. Treier. Downers Grove, IL: IVP Academic, 2015 (Studies in Christian Doctrine and Scripture)
The Decades of Henry Bullinger / Heinrich Bullinger, 1504-1575; Joel R. Beeke; George M. Ella; Thomas Harding, 1516-1572. Grand Rapids, MI: Reformation Heritage Books,c2004 (reprint in 2 vols.) – a gift from a friend
The Works of Ezekiel Hopkins: Successively Bishop of Raphoe and Derry / Ezekiel Hopkins, 1634-1690; Charles William Quick, 1822-1894. Ligonier, PA : Soli Deo Gloria Publications, 1995-97 (3 vols) – a gift from a friend
Orthodox and Modern: Studies in the Theology of Karl Barth / Bruce L. McCormack. Grand Rapids, MI: Baker Academic, c2008.
Reformed Systematic Theology: Volume 1: Revelation and God / Joel R. Beeke; Paul M.Smalley. Wheaton, IL: Crossway, 2019.
None Greater: The Undomesticated Attributes of God / Matthew Barrett. Grand Rapids,MI: Baker Books, 2019.
Chosen in Christ: Revisiting the Contours of Predestination / Cornelis P. Venema. Fearn,Ross-shire, GB: Mentor, 2019 (R.E.D.S. – Reformed, Exegetical and Doctrinal Studies)
From Shadow to Substance: The Federal Theology of the English Particular Baptists 1642-1704 / Samuel D. Renihan; James M. Renihan. Oxford [Eng.]: Centre for Baptist History and Heritage, 2018 (Centre for Baptist History and Heritage Studies)
Christ the Mediator of the Law: Calvin's Christological Understanding of the Law as the Rule of Living and Life-Giving / Byung-Ho. Moon; David F. Wright. Milton Keynes. UK; Waynesboro, GA: Paternoster, 2006 (Studies in Christian History and Thought)
The Doctrine on Which the Church Stands or Falls: Justification in Biblical, Theological, Historical, and Pastoral Perspective / Matthew Barrett; D. A. Carson; Stephen Dempster; Matthew Barrett. Wheaton, IL: Crossway, 2019.
Common Grace: God's Gifts for a Fallen World, Volume 2: The Doctrinal Section / Abraham Kuyper, 1837-1920. ; Nelson D. Kloosterman, Transl.; Ed M. Van Der Maas, Transl.; Jordan J. and J. Daryl Charles Ballor. Bellingham, WA: Lexham Press, 2019.
A Biblical Theology of the Doctrines of Sovereign Grace: Exegetical Considerations of Key Anthropological, Hamartiological, and Soteriological Terms and Motifs / George J.Zemek. Little Rock, AR: George J. Zemek, 2005.
40 Questions about Calvinism / Shawn D. Wright; Benjamin L. Merkle, editor. Grand Rapids, MI: Kregel Academic, 2019.
Humble Calvinism: And If I Know the Five Points, But Have Not Love… / J. A. Medders;Raymond C. Ortlund, Jr; C. H. (Charles Haddon) Spurgeon, 1834-1892. UK: The Good Book Company, 2019.
Practical Theology (1) – Christian Living, Family, Marriage, Missions, Prayer
Maturity: Growing Up and Going On in the Christian Life / Sinclair B. Ferguson.
Edinburgh; Carlisle, PA: The Banner of Truth Trust, 2019.
Competing Spectacles: Treasuring Christ in the Media Age / Tony Reinke. Wheaton, IL: Crossway, 2019.
Work: Its Purpose, Dignity, and Transformation / Daniel M. Doriani, 1953-. ; Bryan Chapell. Phillipsburg, NJ: P&R Publishing, 2019.
Dark Clouds, Deep Mercy: Discovering the Grace of Lament / Mark Vroegop; Joni Eareckson Tada. Wheaton, IL: Crossway, 2019.
Untangling Emotions / J. Alasdair Groves; Winston T. Smith. Wheaton, IL: Crossway, 2019.
A Model for Marriage: Covenant, Grace, Empowerment and Intimacy / Jack O. Balswick; Judith K. Balswick. Downers Grove, IL: IVP Academic, c2006.
The Missionary Expansion of the Reformed Churches / John A. (John Anderson) Graham, 1861-1942; A. H. Charteris. Edinburgh: R. & R. Clark, 1898.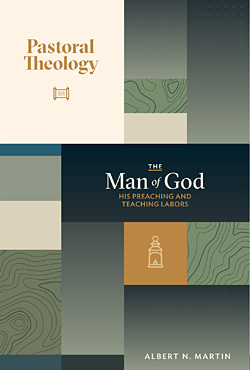 Practical Theology (2) – Church Government/Leadership, Counseling, Pastoral Ministry, Preaching, Sermons, Worship
Preaching to Be Heard: Delivering Sermons That Command Attention / Lucas O'Neill. Bellingham, WA: Lexham Press, 2019.
The Worlds of the Preacher: Navigating Biblical, Cultural, and Personal Contexts / Scott M. Gibson, editor; Bryan Chapell; Haddon W. Robinson. Grand Rapids, MI: Baker Academic, 2018.
Singing the Congregation: How Contemporary Worship Music Forms Evangelical
Community / Monique M. Ingalls. New York, NY: Oxford University Press, 2018.
Ever Ancient, Ever New: The Allure of Liturgy for a New Generation / Winfield H.
Bevins; Scot McKnight. Grand Rapids, MI: Zondervan, 2019.
The John MacArthur Handbook of Effective Biblical Leadership / John MacArthur; Mark Dever; Steven J. Lawson. Eugene OR: Harvest House, 2019.
Saint Peter's Principles: Leadership for Those Who Already Know Their Incompetence /Peter A. Lillback; Albert R. Mohler, Jr. Phillipsburg, NJ: P&R Publishing, 2019.
The Man of God: His Preaching and Teaching Labors / Albert N. Martin. Montville, NJ: Trinity Pulpit Press, 2018 (Pastoral Theology – Volume 2)
Hearers and Doers: A Pastor's Guide to Making Disciples Through Scripture and
Doctrine / Kevin J. Vanhoozer. Bellingham, WA: Lexham Press, 2019.
Misc. (Apologetics, Culture, Education, Music, Politics, Science, Work, World Religions,etc.)
The Benedict Option: A Strategy for Christians in a Post-Christian Nation / Rod Dreher. New York, NY: Sentinel, 2017.
A Manual for Writers of Research Papers, Theses, and Dissertations: Chicago Style for Students and Researchers / Kate L. Turabian; Wayne C. Booth; Gregory G. Colomb; Joseph M. Williams. (9th ed.) Chicago: University of Chicago Press, 2018.
Periodicals (Old & New)
The Reformed Review (Western Theological Seminary, RCA, Holland, MI), Vol.9 and
up, 1956- (donated by a friend)