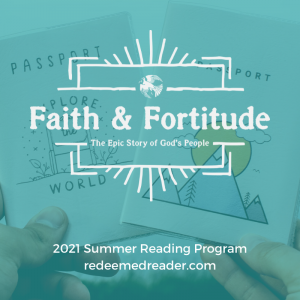 Yesterday (June 14) Redeemed Reader launched its annual summer reading program for children, and it's not too late to join the fun.
This year the theme is "Faith & Fortitude" (logo above) and takes off on pastor Tim Challies book Epic: An Around-the-World Journey Through Christian History, a unique story of the Christian church through historic events, places, and objects. Here's a little description of this year's program:
This year, more than ever, we need stories that are both mirrors (showing us ourselves) and windows (helping us understand other people). We need stories that show God at work in the world and his people persevering in their callings. We need stories that point us to Truth with a capital "T." 

We need Jesus and the hope of the gospel amidst the tensions and turmoil in our communities.

That's why we created Faith & Fortitude: the EPIC story of God's People.
If you wish to get your child enrolled, visit the link above and get started while you still can. And, yes, of course, you can read and learn right alongside of your child.