In this marvelous little part of the chapter titled "The Spittin' Image," Walter Wangerin, Jr. is reflecting on his mother's words to him at a young age that he was the "spittin' image" of her father, his grandpa. He is reflecting as a young lad on what this could possibly mean, including that maybe he was supposed to spit tobacco like his grandpa. Enjoy this powerful description of their special relationship – from the viewpoint of a six-year old.
"…Moreover, he loved me, did my Grandpa Storck, the solemn Lord of the green lawns and the gravestones. [He was superintendent of the cemetery in St. Louis, Missouri.] He loved me. And this was his particular way of showing love for me, by spitting. No, I simply could not imagine duplicating the meaning of the marvelous act.
"Marvelous? It was a spectacle of skill, performed for me alone; and the more skillful he, the more love for me, since the finer was the gift that I was given.
"Grandpa seldom smiled. He had an eruption of moustache beneath his nostrils. His face was mostly expressive of one mood only: solemnity, rectitude, Lutheran doom. His arms were long and strong, his hands huge, his stride unhalting, his whole body an uncompromising dogma. Moses! Grandpa Storck, his hair like cloud on top of his head, was an immediate Sinai, grim and untender – but I was not intimidated.
"For this Mount Sinai could spit.
"This old man, he loved me in the spitting.
"For we would be sitting in his study, as dark and oaken as Lutheran truth. For he would be massive behind his desk, while I kept silent in the corner, according to his admonition. For he would flick me a sudden, significant glance, and I would recognize a break in the weather, and my heart would leap, but I would strive to keep my face as solemn as his. For he would clear his great throat and creak backward in his swivel chair, backward, backward until his face was aimed toward shadows at the ceiling, toward some spot so high above his brass spittoon, itself three miles away from him, that no one would bet a nickel he'd hit it. For I would fight the giggles in me, trying to be worthy of the grand occasion. For Grandpa – angled backward in his chair, twitching his mighty moustache – was Olympian.
And Grandpa spit.
"Ha! but there was a splendor in that rising, shining, dark brown spew – and a glory so important that everything moved slow-motion to my sight. Listen: the goober never touched his moustache! It rose from his lip like a darker comet with a long, delirious tail. It ascended the air of his study in reckless daring: he spat up, not down. He spat distance, not safety. This was no timid dribble. This was the audacity of outrageous skill. High in space that comet would curve into a perfect apogee, then suddenly tip and sail downward with a gathering, giddy speed – till, Poooom! it hit the target center-brass. Poooom! a ring of triumph. Done.
"And Grandpa would flick me another glance from his spit-position in the chair, and that undid me truly. I laughed out loud in spite of myself. I shouted. He had done it, and he loved me, and I acted like a kid for what I'd seen, laughing pure delight and gratitude.
"…So we would walk the kingdom together, he and I. And he would stride, but I would run to stay abreast of him; and the summer was hot, but the day was always lovely, and I was happy as the grass was green, oh, I was lordly in the rivers of the windfall light. My Grandpa, the Keeper of this cemetery, the rule of all the world, he loved me."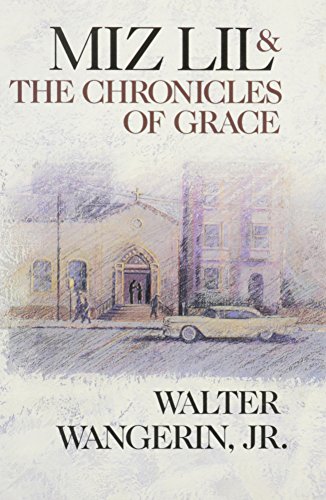 Found in Miz Lil and the Chronicles of Grace (San Francisco, CA: HarperCollins, 1988), pp.13-14. I have read many of Wangerin's books but found this one this summer and realized I had not read it. So far it is the best of his writings, to my mind. Just masterful writing about his ministry in the inner city (Evansville, IN) Lutheran church he served. The church's name was Grace and the stories are about how God's grace worked in him and his parishioners as he brought them God's Word. Now you understand the double meaning behind "Chronicles of Grace." The stories will leave you not only laughing, but crying.