Another year has ended and that means we can post some of the significant acquisitions and additions to the PRC Seminary library in the last quarter of 2021 (Oct. – Dec.). And since it is the beginning of a new year, we hope this list will give you some ideas for what to read in 2022.
As in the past, I will give the list in two parts. In this post we will feature the biblical studies and the church history sections of my list.
Biblical Studies/ Commentaries/ Biblical Theology
Bibles
New Burmese Bible: New Testament. San Ceu Luai (Pastor) Titus. Grand Rapids, MI: Thomas Yuetter, 2021 (gift to PRC Seminary from the Yuetters, who printed and bound this new translation and whose Burmese wife assisted Rev. Titus in proofreading it).
Series:
Baker Commentary on the Old Testament (Baker Books)

Hosea-Micah. [Prophetic Books] John Goldingay, 2021.

Baker Exegetical Commentary on the New Testament (Baker Books)

2 Corinthians. George H. Guthrie, 2015.

Daily Study Bible – Old Testament (Westminster Press)

Twelve Prophets: Volume 1: Hosea, Joel, Amos, Obadiah, Jonah. Peter C. Craigie, 1984-85.

Twelve Prophets: Volume 2: Micah, Nahum, Habakkuk, Zephaniah, Haggai, Zechariah, and Malachi, Peter C. Craigie, 1984-85.

Founders Study Guide Commentary

Galatians: He Did It All. Baruch Maoz. Cape Coral, FL: Founders Press, c2019, 2021.

God's Word for You (Good Book Co.)

Isaiah for You. Tim Chester, 2021.

Kregel Popular Commentary (Kregel Publications)

Studies in II Timothy. H. C. G. Moule, 1977

Preaching the Word (Crossway)

Ezra, Nehemiah, and Esther: Restoring the Church. Wallace P. Benn.; R. Kent. Hughes, ed. Wheaton, IL: Crossway, 2021.

Reformation Commentary on Scripture – New Testament (IVP Academic)

Matthew. Jason K. Lee, 2021
Other Commentaries (Individual)
Stand Bold in Grace: An Exposition of Hebrews. Robert G. Gromacki. Grand Rapids: Baker Book House, 1984.
Bible Delight: Heartbeat of the Word of God: Psalm 119 for the Bible Teacher and Hearer. Christopher Ash. Fearn, Ross-shire, GB: Christian Focus, c2008, 2021.
Individual Biblical Studies Titles
The Bible Speaks Today (IVP)

The Message of the Living God: His Glory, His People, His World. Peter Lewis; Derek Tidball. 2000.

The Message of the Holy Spirit: The Spirit of Encounter. Keith. Warrington; Derek Tidball, 2009.

The Message of Worship: Celebrating the Glory of God in the Whole of Life. John. Risbridger; Derek Tidball, 2015.

Moses: Typical Mediator of the Old Covenant. Bernard J. Woudenberg, 1931-2020. Jenison, MI: Reformed Free Publishing Association, 2021.
The Herods: Murder, Politics, and the Art of Succession. Bruce. Chilton. Baltimore, MD: Fortress Press, 2021.
Homilies on Isaiah. Origen; Elizabeth A.D. Lauro, Transl. Washington, D.C.: The Catholic University of America Press, 2021(The Fathers of the Church, A New Translation), vol. 142
Signs of the Messiah: An Introduction to John's Gospel. Andreas J. Kostenberger. Bellingham, WA: Lexham Press, 2021.
New Testament Christological Hymns: Exploring Texts, Contexts, and Significance. Matthew E. Gordley. Downers Grove, IL: IVP Academic, 2018.
The Joy of Hearing: A Theology of the Book of Revelation (New Testament Theology). Thomas R. Schreiner. Wheaton, IL: Crossway, 2021.
Do We Need the New Testament?: Letting the Old Testament Speak for Itself. John Goldingay. Downers Grove, IL: InterVarsity Press, 2015.
Language Tools
Greek For Life: Strategies for Learning, Retaining, and Reviving New Testament Greek. Benjamin L. Merkle; Robert L. Plummer; William D. Mounce. Grand Rapids, MI: Baker Academic, 2017.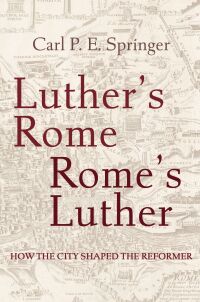 Church History, General and Biography
Tot de prediking van het Woord des geloofs: Opstellen ter gelegenheid van de herdenking van de oprighting der Theologische School A.D. 1854 te Kampen . D. V. Dijk; H. Bouma; P. Deddens. Kampen: Comite van Uitgave, 1954?. [A fascinating book commemorating the 100th anniversary of the founding of the Reformed Seminary at Kampen. Includes significant pictures of documents and persons associated with its history, including De Cock, Brummelkamp, van Velzen and later H.Bavinck and K.Schilder.]
Hendrik De Cock, Eerste Afgescheiden Predikant in Nederland : Beschouwd in Leven en Werkzaamheid. Hendrik De Cock. [son] Delfzijl: Jan Haan, c1860, 1886 (2nd ed.). [gift from Van Raalte Institute & R. Swierenga]
Thomas Boston: His Life and Times. Andrew Thomson. Fearn, Ross-shire, GB: Christian Focus Publications, 2004.
Introduction to World Christian History. Derek Cooper. Downers Grove, IL: IVP Academic, 2016.
Great Women in Christian History: 37 Women Who Changed Their World. A. Kenneth. Curtis; Dan Graves. Camp Hill, PA; Worcester, PA: Christian Publications; Christian History Institute, c2004.
Dr. Ida: The Story of Dr. Ida Scudder of Vellore. Dorothy C. Wilson. New York: McGraw-Hill, 1959.
John Calvin in Context. R. Ward Holder, editor; G. Sujin Pak, 1971; Raymond A. Mentzer. New York: Cambridge University Press, 2019.
Luther's Rome, Rome's Luther: How the City Shaped the Reformer. Carl P. E. Springer. Minneapolis, MN: Fortress Press, 2021.
Luther and the Reformation: How a Monk Discovered the Gospel. R.C. Sproul. Orlando, FL: Ligonier Ministries, 2021.