"And further, by these, my son, be admonished: of making many books there is no end; and much study is a weariness of the flesh." (Eccles.12:12)
No doubt, the volumes of volumes produced in this world by publishers manifest the vanity of this world and add to the weariness of life. And yet there are many good books for the Christian to benefit from, and a look at some of the end-of-year book lists that are produced this time of year enables us to glean some titles for profitable reading. This is my humble attempt to assist you in that.
Naturally, one has to pay attention to Amazon, which publishes several best-book lists at the end of the year. While we cannot approve of every title, probably even many of them, nevertheless it is good to review these lists to see what is popular in our culture as well as to find a good read here and there. For example,
Tim Challies usually posts an end-of-the-year list he titles "collected best books," gathered from others' best-book lists. He looks for common likes and focuses on these. You will find his 2022 list here, which includes among many, this book:
Christianity Today has a little different approach to the world of books at the end of the year: a review of the top reviews of books on their website, which is another good way to gain knowledge of and interest in a good read. Let's give their top one as a teaser for you: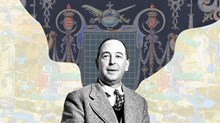 C.S. Lewis Was a Modern Man Who Breathed Medieval Air
As both a writer and a scholar, his work hearkened back to a "slow, contemplative, symphonic world."
LOUIS MARKOS
If you are looking more broadly for books from the publishing world, Kirkus Reviews always has helpful summary of the best books in a multitude of categories. While I do enjoy some fiction, I usually pay attention to the non-fiction genre, and the list this year from Kirkus has some fine ones that should satisfy your interest. Here's a couple that caught my eye:
Another of my favorite end-of-year book notices comes from Abe Books, from which I buy a fair amount of used books throughout the year. They always publish a list of the most expensive books that were sold. The 2022 list does not disappoint. And you thought print books were losing their value. Not the rare ones! Here's a sample of one of them:
Cook's Voyages by John Hawkesworth – $50,000
A rare first edition set of the official accounts of Captain James Cook's three voyages published in nine volumes in 1773, 1777 and 1784 respectively. These books were 18th century bestsellers with readers eager to learn about the other side of the world. These books gave Europeans a greater awareness of world geography, while his maps and charting of coastlines laid the foundation for modern maritime routes.
And finally, for those who love digital content and ebooks, especially Christian, Reformed, and Calvinistic ones, allow me to recommend Monergism. They now have over 900 classic titles available free for download on their site. Here's just one example:
Ok, so now you have plenty of reason for pursuing the amazing world of books – from new to used to rare, on paper and on screen! May 2023 give you a powerful incentive to make the pursuit – and thereby to grow in wisdom and in wonder for God's world and for His grace in Jesus.