At the end of June, I completed the second quarter list of significant book acquisitions to the PRC Seminary library for this year (April – June). I make it a habit to share this list with the TSC (Theological School Committee) as well as with the faculty and students so that they can be informed of what is being added to the library.
But I am also convinced these lists are of value to you readers, which is why I post this one here. As noted before, part of my reason for posting them is not only to show you the kinds of books the seminary adds to its library, but also to stimulate you to find something to read. Yes, there are books here for the "common" church member, as well as for pastors and other officebearers. Some books are deeper in content than others, but there truly is something for most everyone in these lists. And, with Bible study season starting again soon, perhaps those opening sections of commentaries will be of use.
So, with that in mind, we give you this second quarter list – the first few sections of it, at least – with the rest to follow in a post later this week. Keep in mind these are not all the titles purchased, just the more significant ones. Happy browsing! Be on the alert for that book (or those books) that you may wish to read yourself!
Biblical Studies/ Commentaries/ Biblical Theology
God's Word for You (Good Book Co., UK – Carl Laferton, ed.)

Psalms for You / Christopher Ash (2017)
Daniel for You / David R. Helm (2017)
2 Corinthians for You / Gary Millar (2020)
Ephesians for You / Richard Coekin (2015).

Mentor Commentaries (EP Books – UK)

Proverbs: A Mentor Commentary / John A. Kitchen (2012)

New International Greek Testament Commentary (Wm. B. Eerdmans)

The Epistles to the Thessalonians: A Commentary on the Greek Text / Charles A. Wanamaker, 1990.

Welwyn Commentary Series (Evangelical Press)

According to Promise: Numbers Simply Explained. Gordon J. Keddie. Welwyn Garden City, UK, c1992, 2017.
Heavenly Love: The Song of Songs Simply Explained. Gary Brady, c2006, 2017.
The Name High Over All: A Commentary on Hebrews / Richard Brooks, 2016.
Other Commentaries (Individual)

Unfolding Covenant History: An Exposition of the Old Testament, From Samuel to Solomon, Vol.6. David J. Engelsma; Mark H. Hoeksema. Jenison, MI: Reformed Free Publishing Association, 2020.
In the Presence of My Enemies: Psalms 25-37 / Dale Ralph Davis. Fearn, Ross-shire, Scotland: Christian Focus, 2020.
Ever in Thy Sight: 31 Devotions on the Psalms / Abraham Kuyper, 1837-1920; James A De Jong, translator. Bellingham, WA: Lexham Press, 2020.
The Song of Songs / G. I. (Gerald Irvin) Williamson, 1925-. (reprint) Phillipsburg, NJ: P & R Publishing, 2020.
Revelation and the End of All Things / Craig R. Koester. Grand Rapids, MI: W.B. Eerdmans, c2001, 2018 (2nd ed.).
Seven Churches, Four Horsemen, One Lord: Lessons from the Apocalypse / James Montgomery Boice, 1938-2000; Philip Graham Ryken, editor. Phillipsburg, NJ: P&R Publishing, 2020.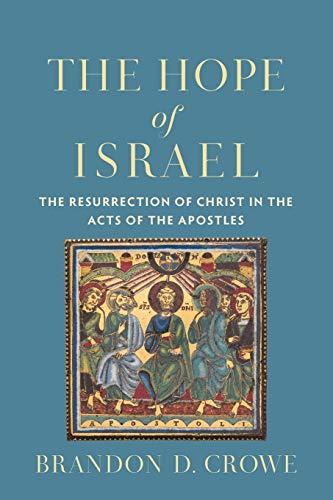 Individual Biblical Studies Titles
Treatises on Noah and David / Saint Ambrose, Bishop of Milan, -397; Brian Dunkle, translator. Washington, D.C.: The Catholic University of America Press, 2020 (The Fathers of the Church) vol. 140
Christian Doctrine and the Old Testament: Theology in the Service of Biblical Exegesis / Gary A. Anderson. Grand Rapids, MI: Baker Academic, 2017.
The Hope of Israel: The Resurrection of Christ in the Acts of the Apostles / Brandon D. Crowe. Grand Rapids, MI: Baker Academic, 2020.

Church History, General and Biography
Introduction to the History of Christianity / John H. Y. Briggs; Tim. Dowley; Robert Dean Linder. Minneapolis: Fortress Press, 2018 (3rd ed.).
Luther at Leipzig: Martin Luther, the Leipzig Debate, and the Sixteenth-Century Reformations / Mickey L. Mattox, editor.; Richard J. Serina, Jr., editor; Jonathan Mumme, editor. Leiden ; Boston : Brill, 2019 (Studies in Medieval and Reformation Traditions) vol. 218
Defending Luther's Reformation: Its Ongoing Significance in the Face of Contemporary Challenges / John A. Maxfield, editor; Timothy P. Dost; Jonathan Mumme. Saint Louis, MO: Concordia Publishing House, 2017.
Huldrych Zwingli's Private Library / Urs B. Leu; Sandra Weidmann. Leiden; Boston: Brill, 2019 (Studies in Medieval and Reformation Traditions,) vol. 215
Calvin and the Early Reformation / Brian C. Brewer, editor; David M. Whitford, editor. Leiden; Boston: Brill, 2020 (Studies In Medieval And Reformation Traditions,) vol. 219
Heretics and Believers: A History of the English Reformation / Peter Marshall. New Haven: Yale University Press, 2018.
Andrew Fuller: Model Pastor-Theologian / Paul L. (Paul Lee) Brewster; Michael A. G. Haykin. Nashville, TN: B&H Academic, 2010 (Studies In Baptist Life and Thought)
On the Side of God: The Life and Labors of Andrew Fuller / Jeremy (Jeremy R.) Walker. Conway, AR: Free Grace Press, 2020.
Immigration, Settlement, and the Origins of the Christian Reformed Church in the Maritime Provinces of Canada, c. 1950-C. 1965 / Gerrit H. Gerrits. Kentville, Nova Scotia: Vinland Press, 2015.
The American Puritans / Dustin. Benge; Nate. Pickowicz. Grand Rapids, MI: Reformation Heritage Books, 2020.